---
Chroma 87001 Battery Cell Simulator is a high precision, programmable, and bidirectional DC power source with both voltage source and current source functions. In addition, the model can be used as a multi-channel DC power supply or an electronic load as well. A single simulator has 16 channels and each of them can set voltage and current respectively via Chroma software.
The Chroma 87001 Battery Cell Simulator can be used in place of lithium-ion batteries to provide a reliable and safe testing environment. The equipped battery management system (BMS) and its subsystems can test the battery cells used in electric vehicles and energy storage batteries, etc.
The simulator has voltage isolated channels that can simulate a 480-cell battery pack (240S2P, Voltage <1,000V) connected in series. It is used to imitate the power characteristics when charging and discharging the battery cell energy. This high-precision battery cell simulator with flexible voltage source and current load regulation has voltage and current measurement capabilities. Each channel provides 0~5V voltage adjustment capability and 0~5A bidirectional current function, with serial and parallel capabilities between channels. The current can be increased by paralleled channels; moreover, the battery cell short circuit simulation tests can be performed via the battery management system (BMS). The BMS testing can be performed directly even when the cable length is 5m long.
The Chroma 87001 Battery Cell Simulator can be used alone with user development software or integrated into a fully functional BMS test system for automated testing to complete the product verification rapidly. The simulator can test the BMS products under master/slave or independent architecture. Optional high-precision temperature simulation is available through Chroma's customized BMS test system as each battery has temperature sensor simulating function to provide the cell temperature status to BMS for testing.
The simulator has a variety of protection features such as over current protection (OCP), over voltage protection (OVP), under voltage protection (UVP), fan fail protection, and output circuit compensation voltage to make sure that the tests are conducted under a safe environment.
Application Architecture (Master/Slave Architected Battery Management System)
The battery cell simulator 87001 can simulate voltage of battery cells in series and provide current to balanced circuits of BMS boards. When integrated into an automatic BMS test system, the 87001 can test BMS boards as shown in the architecture diagram below.
Battery Cell Status in Parallel and Serial Operation Mode
For applications that require more than 16 battery cell strings, users can connect up to 15 units of 87001 simulators in series.
Users can also independently connect each 87001 through an Ethernet hub. Where the Ethernet bandwidth is sufficient, the upper-layer controller can perform synchronous remote control, issuing voltage modulation commands to multiple 87001 simultaneously with a voltage control response time of less than 10ms for each individual unit.
The hardware configuration can achieve up to 240S 2P (voltage < 1,000V). The simulator supports co-existing connections of channels in both series and parallel, with an automatic current balancing design in parallel connection mode.
Note: The voltage control response time (phase delay time) = upper-layer controller command sending time + 87001 command processing time + voltage rise/fall time.
Precision Voltage/Current Measurement
The Chroma 87001 Battery Cell Simulator has voltage source and bidirectional current source modes with a built-in 16-bit high-precision A/D converter. The voltage measurement accuracy is up to ±1mV (0.02%FS) with resolution up to 0.1mV.
Catering to the market trend of active and passive balance design, the current measurement is divided into four ranges, 0~9A (<500ms), 0~5A, 0~500mA and 0~250uA, with 0.02%FS accuracy. For the 0~5A (power increased in parallel connection) range, the accuracy is ±1mA, which meets most industry requirements for testing actively balancing designed circuits with a current measurement resolution up to 100uA.
For the 0~500mA range, the accuracy is ±100uA (0.02%F.S.), satisfying the needs of most of the industry's passive balance designs with a measurement resolution of up to 10uA. In addition to current measurement for passive balance designs, it can also be used to measure the current consumption of battery cells in a cell supervision circuit (>10mA for general consumption).
Sequence Programming
The battery cell simulator has 16 channels. Through the software interface, users can set the voltage and current limits for each channel individually and control settings such as the rise and fall of output voltage and synchronized startup between channels. Its low output noise feature allows it to maintain the DC characteristics of a battery cell without any ripples during dynamic load changes, guaranteeing a stable DC output in a timely manner. Additionally, this feature reduces surge voltage caused by load changes, which could otherwise harm the Unit Under Test (UUT). This makes it an ideal solution for non-static products and test applications requiring a reliable DC voltage source.
The Chroma 87001 Battery Cell Simulator provides a high-speed, programmable, dynamic, and bidirectional load mode with less than 100us load change capability, simulating a variety of real load current waveforms.
▲ Synchronous startup time difference between channels<2ms
▲ Voltage change of all channels
▲ Low output noise<0.35 mV rms
▲ Stable DC output generated from load change
▲ High speed voltage response <1ms
System Integration and Support
Chroma offers two types of commands (SCPI through the Ethernet interface and CANbus commands through the CANbus interface) as well as Labview and Labwindow driver programs, allowing users to develop their own application software for controlling the 87001 Battery Cell Simulator.
Chroma's system integration capability enables us to provide customized automated test systems for BMS functional testing.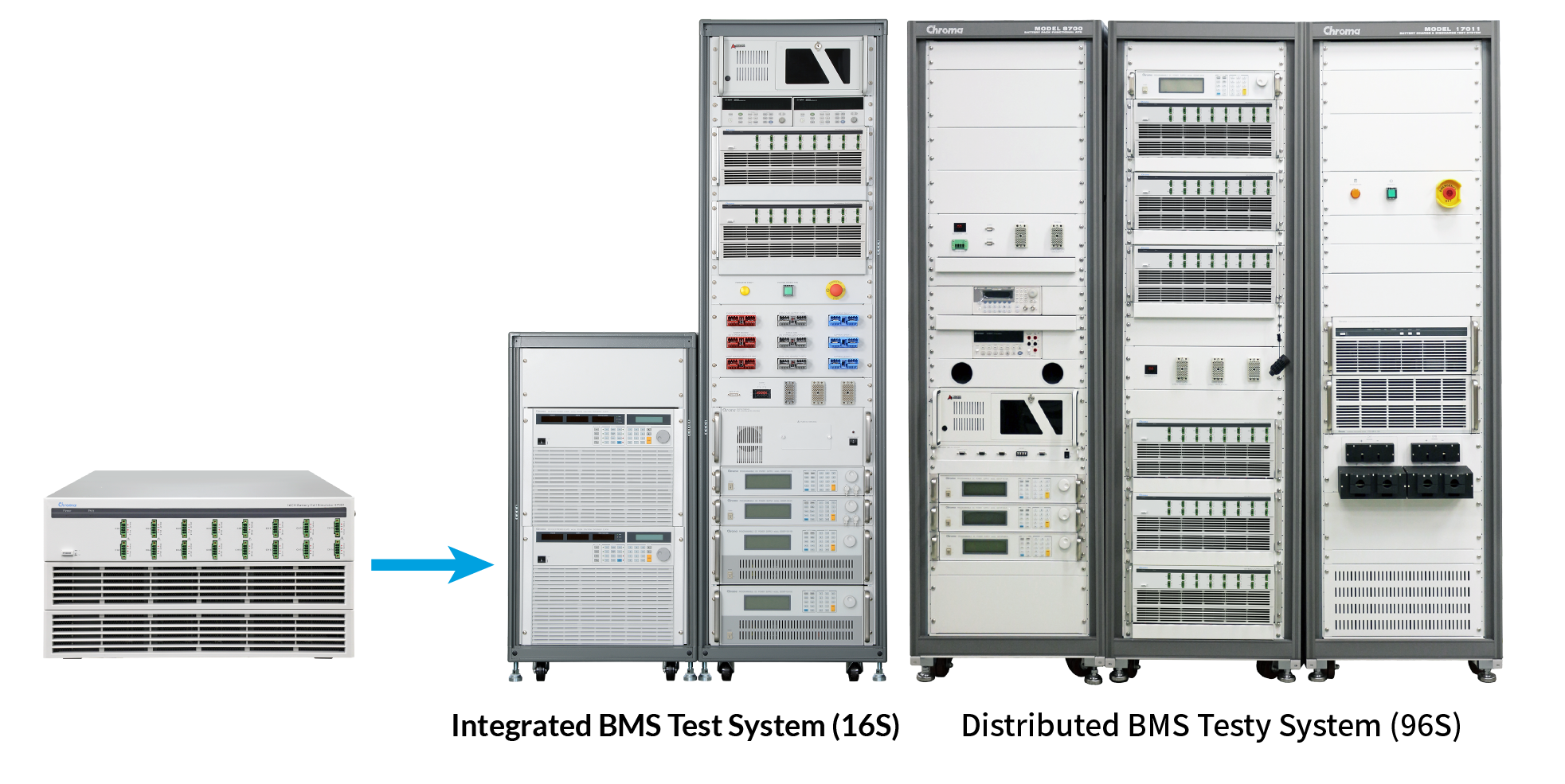 Remote Control Function
▲ 87001 Softpanel
Chroma's proprietary Softpanel is provided to control the battery cell simulator, allowing the user to:
Individually adjust the voltage of each battery string
Set the voltage change procedure: OVP/UVP/OVP release /UVP release test
Note: The softpanel is only for a single unit of 87001.
---