On October 6, 2016, officers from the Department of Industrial Technology (DoIT) and the Ship and Ocean Industries R&D Center (SOIC) visited Chroma's booth at TAITRONICS 2016 to join a ribbon-cutting ceremony celebrating the completion of a joint development project – an EV charging test system. The test system has successfully assisted many well-known EV manufacturers with charging compatibility tests that comply with their individual national charging standards.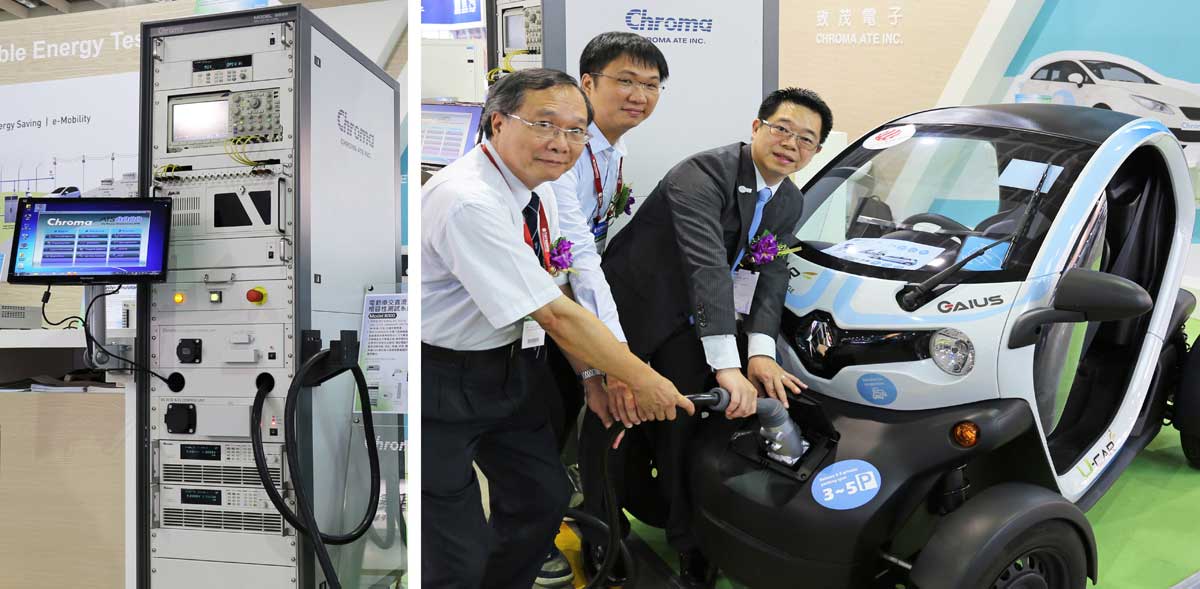 Figure: Lanching cermony of Chroma's 8000 ATS - The world's first charging interface simulator ATS in compliance with CHAdeMO standards.
From left to right: H.J. Lin/Deputy CEO of SOIC, H.W. Ho/Specialist of Machinery and Transportation Section in DoIT of Ministry of Economic Affairs and William Change/Executive Assistant of GM Office in Chroma ATE Inc.
Electric vehicles are regarded as the development trend of the next-generation automobile. In recent years, countries around the world have offered subsidizations for new energy in the automotive industry creating a boom in development. According to authoritative analysis, electric vehicles around the globe will be up to 10 million by 2020.
In order to reduce and avoid compatibility issues between an EV and various brands of charging equipment, which may otherwise result in users being unable to charge or even create dangerous situations, comprehensive standards like IEC-61851, IEC15118, SAE-J1772, CHAdeMO, GB/T18487, and GB / T27930 have been implemented by countries around the world , to perform large-scale demonstrations of operation, and consign to many major laboratories for pile interoperability testing to reduce incompatibility.
Following the completion of the world's first SAE J1772 AC charging pile communication protocol automation evaluation system with UL certification, Chroma has designed an AC/DC charging compatibility test system specifically for EV manufacturers. This test system simulates the charging state of various normal/abnormal modes of the charging pile to assist EV factories in validating the charging related functions in electric cars during the development stage and before shipment. This system has measurement, protection, timing, and communication protocol parameters with message and test data storage functions for future inquiry as well as report output capabilities to carry out product management and process monitoring for quality products.
The CHAdeMO charging interface simulator, which conforms to Japan's standard, was developed in cooperation with the SOIC R&D center. This EV energy technology - is invented under the lead of DoIT in Ministry of Economic Affairs - has been patented in the United States, Japan, mainland China, and Taiwan. The Sun Moon Lake, a famous tourist spot in Taiwan, installed a fast charging system using this technology as the world's first commercially operated CHAdeMO charging station dedicated for electric yachts. This solution has been adopted by EV manufacturers and certification laboratories in both Korea and Mainland China.
With 30 years of experience in power electronics, Chroma is capable of creating innovative testing solutions for new energy-related industries including electric vehicles, solar energy, and micro-grid energy storage, etc. For EV key components testing, the solutions available for car chargers, DC/DC converters, AC/DC charging pile, and vehicle controller have been adopted by the main EV manufacturers and well-known testing laboratories both domestic and abroad.