---
Chroma 61507, 61508, 61509, 61511, and 61512 can comply with the power test requirements for aircraft as stipulated by avionic standards. The power sources can help user to simulate aircraft power disturbance test by linking Chroma test software: SoftPanel for MIL-STD-704F Avionic Standards.
This software can be connected via GPIB, RS-232C, USB, and Ethernet, and it supports single/three-phase switching.
| | |
| --- | --- |
| ▲ Single-phase Mode (only providing single-phase power supply test) | ▲ Three-phase Mode |
The SoftPanel for MIL-STD-704F provides seven test groups in total, including three single-phase AC power test groups (SAC, SVF, and SXF), two three-phase AC power test groups (TAC and TVF), and two DC power test groups (LDC and HDC).
Power Group
Each power group supports the following test items, click for more information.
Download the list of power group
SAC
Single Phase, 400Hz, 115V
SVF
Single Phase, Variable Frequency, 115V
SXF
Single Phase, 60Hz, 115V
TAC
Three Phase, 400Hz, 115V
TVF
Three Phase, Variable Frequency, 115V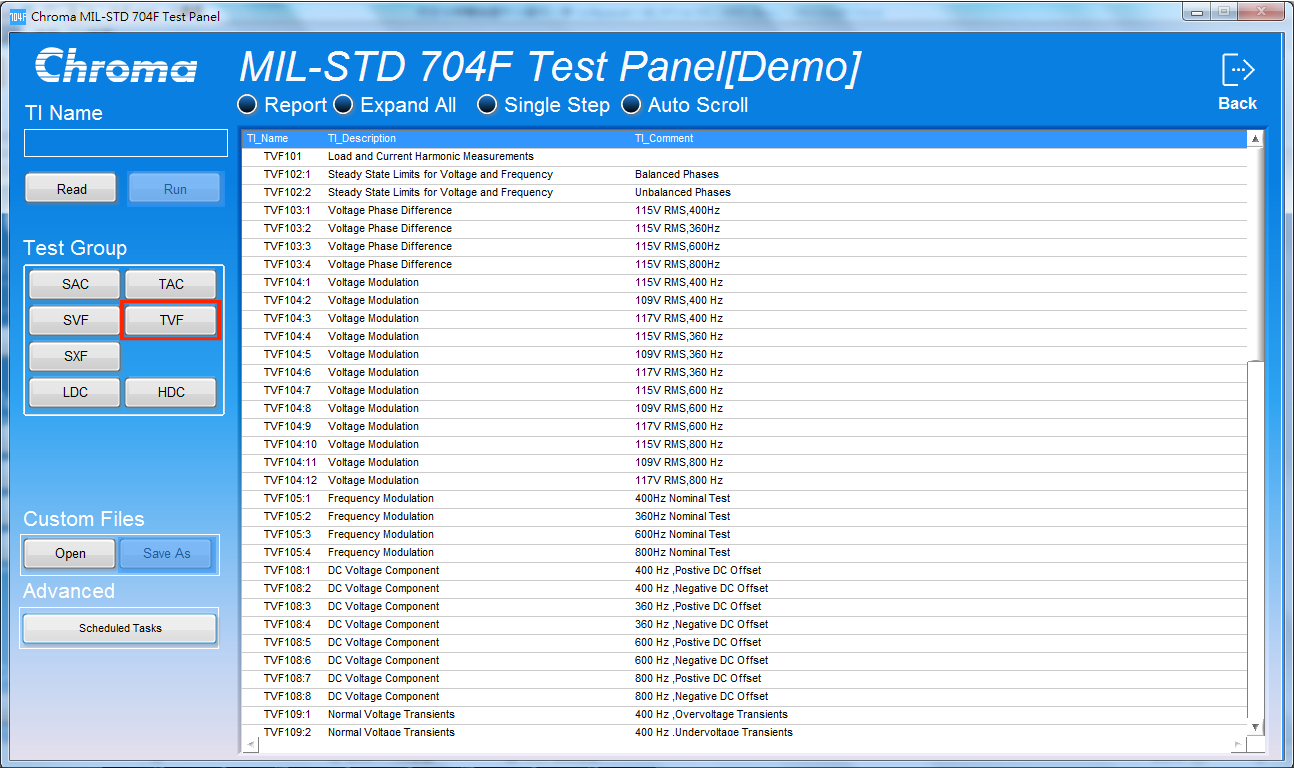 LDC
Low Voltage DC, 28V
HDC
High Voltage DC, 270V
After clicking the test item, users can view each test step included. The interface allows users to directly cancel certain test steps or modify parameters such as the voltage, frequency, or duration.
The Advanced function enables editing of the test sequence. Users can add the test items they need and let the software test in sequence.
---