The following contents are the preliminary specifications of the product, and are subject to change without prior notice.
Chroma A223814 has built-in 2 HDMI 2.1a output ports with up to 48 Gbps transmission rate and 10K@120Hz to 2K@480Hz resolution image output supported single port. It is suitable for the applications of high refresh rates such as gaming, movies, and medical care.
The technology of VRR (Variable Refresh Rate) or Gaming-VRR can apply to many areas and one of them is to meet the rapid change of gaming images. The frame rate of gaming images usually changes at any moment, and Gaming-VRR can reduce or eliminate the phenomenon of video lag, jitter, choppiness, and screen tearing. The A223814 can set the range of frame rate (VRRMIN and VRRMAX) to alter in time making the image refresh rate smoother when changing continuously. It is suitable for various screen applications allowing you to experience gaming more effortlessly.

QMS (Quick Media Switching) or QMS-VRR, in the case of fast switching of refresh rates (such as switching between 60fps and 24fps motion pictures), the display device may experience screen lag. By adjusting the parameters of QMS, QMS-TFRMIN, and QMS-TFRMAX, the A223814 can support the QMS-VRR inspection functions of various video frequencies to output video signals stably and display smooth video playback without interruption (screen blackout).

The QFT (Quick Frame Transport) function accelerates the transmission speed of each dynamic image frame by adjusting the parameter value of FVA (Fast VActive) to reduce the transmission delay between the signal source and the display, creating a smooth interactive virtual reality game without increasing the frame rate of the signal device.
The FVA function can reduce the time required for picture transmission to gain superior performance, low latency, and power saving. The A223814 allows users to set the FVA inspection parameters for segments 1~16, or apply them to Gaming-VRR to form multiple combinations for testing.

ALLM (Auto Low Latency Mode) enables picture delay by setting the parameters of Gaming-VRR and QMS-VRR to play video smoothly and uninterruptedly. The A223814 allows users to edit the ALLM parameters and select the window (OSD) to display the inspection status so that they can easily understand the screen change process during the test.
Dolby Vision is an HDR format that supports Rec.2020 color gamut and a 12-bit color depth to display more than 68 billion colors while the HDR10 supports a 10-bit color depth to display 1 billion colors. The A223814 has built-in test patterns of Dolby Vision to rapidly verify the functions on the DUT by providing color detection maps that conform to today's image output for brightness, contrast, color, sharpness, etc. (*Dolby Vision is owned by Dolby®)
Without Dolby Vision
With Dolby Vision
*REF:Dolby HDMI Test Equipment Version 1.2.1

Besides the HDR (High Dynamic Range) image output, the A223814 is able to output the test items of HDR10+, HLG, and HDR10 functions, targeting the factors that affect the visual perception of consumers. Users can freely adjust the HDR Metadata to test the HDR-related functions. Various standard patterns such as grayscale, color bars, window shapes, etc. are embedded for HDR bidirectional testing as desired.

In addition to the basic color gamut, the A223814 also supports a wide color gamut including RGB / ITU-601 / ITU-709 / xvYCC-601/ xvYCC-709 / sYCC-601 / Adobe YCC-601 / Adobe RGB / BT.2020-YC / DCI-P3 RGB / BT.2020-RGB. It can set YCbCr 4:4:4, 4:2:2, 4:2:0 Pixel encoding format and 24 / 30 / 36 bits color depth, providing a wider color range to achieve true natural color and high-resolution images with a variety of color depths available for selection.

FRL (Fixed Rate Link) exceeds the TMDS image transmission mode previously used in HDMI1.4/2.0 in a more efficient manner. In FRL mode, the Data Rate can select 3, 6, 8, 10, or 12 Gbps according to the resolutions and set the number of Lanes (3, 4 Lane).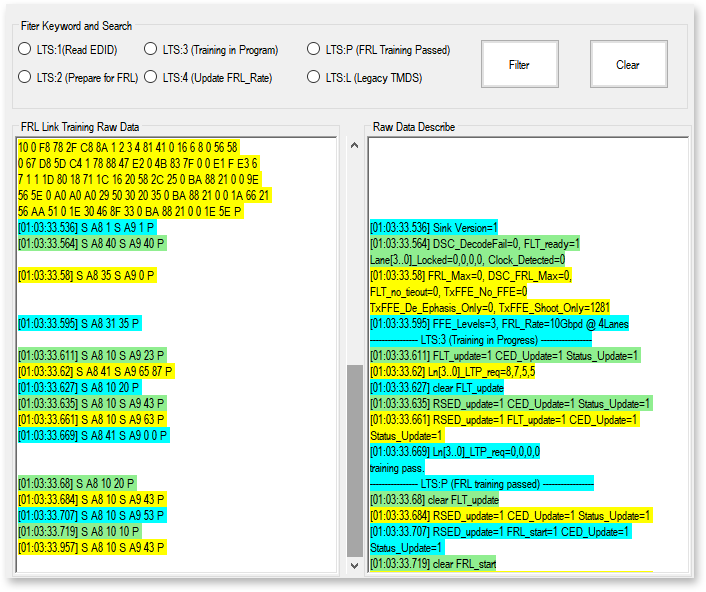 FRL Link Training Raw Data → Raw Data Describe

The FRL Link Training supported by the A223814 has Raw Data transformation function so that users can quickly understand the data contents of each execution program in FRL Link Training. Using VPG Master Software on a PC, users can view the transformed content of LTS1 ~ 4 and LTS L by section via the Filter Keyword and Search function, which is convenient for the system administrator to perform debugging and analysis.
The A223814 also equips an FRL Link Training status monitoring function (VPG Master Software). In a complex training process, the detailed FRL Link Training execution program path and the final training results (FRL, TMDS) are displayed in a diagram, simplifying the complexity to facilitate the administrator identifying the transmission rate supported by the DUT.

HDCP (High-Bandwidth Digital Content Protection) is a protection technology to ensure that digital images and sounds are not copied during transmission. The A223814 supports the up-to-date HDCP 2.3, 2.2, and 1.4 versions that can be switched for use as required. During the tests, the results of the related tests will be directly displayed on the output screen for users to intuitively view and judge the HDCP handshake results.
FEC (Forward Error Correction) is a technique to control transmission errors in a one-way communication system. It reduces the bit error rate by sending additional information along with the data for error recovery. The A223814 packet transmission supports FEC, which can avoid data loss and damage during transmission, and can automatically correct and recover data.

The A223814 acting as an eARC Receiver can display the eARC status, quickly detect the training process, and confirm the related eARC functional tests on the DUT. As a transmitter, it can transfer the lossless and uncompressed LPCM, which has 8 independent audio test signal generators (FL, FR, RL, RR, FC, LFE, RLC, RRC) embedded inside. Respective tests can be performed by enabling or disabling the sound volume, tone, audio, sample rate, sample bit, sweep, etc., providing up to 48 kinds of test combinations.
DSC (Display Stream Compression) is a function developed by Video Electronics Standards Association (VESA) and adopted in the HDMI 2.1 standard by the HDMI Licensing Administrator, Inc. The A223814 supports VESA DSC 1.2a with a maximum compression ratio of 4.5:1. Through the DSC function, users can transmit a larger amount of data under the same bandwidth. When the DSC function is not turned on and set up as 4:4:4 Pixel encoding format, the HDMI 2.1 standard supports a maximum resolution of 10K@30Hz for image output; the resolution is up to 10K@120Hz, 4:2:2 or 4:2:0 Pixel encoding format when the DSC function is turned on.

The VPG Master software has a DSC conversion function to compress images into DSC format. In addition to the 37 built-in image files, it also supports loading external test image files (bmp, jpg, tiff) up to 100 images for storage, users can customize the image resolution, refresh rate, color space, horizontal or vertical cutting, and compression ratio, etc. Moreover, a text string (up to 31 characters) can be entered with customized font, size, color, and coordinates to print on the image file, and download directly to Chroma 2238 so that users can identify if the DSC is enabled or disabled.

The built-in FPGA (Field Programmable Gate Array) equipped with an ultra-high-speed graphics engine can rapidly process a large amount of image data and greatly improve the graphics and data transmission speed. The switching time of ultra-high-resolution images requires only 0.2 seconds (8K as an example), which enhances the inspection efficiency. In the meantime, technical support for new functions, debugging, and software upgrades are provided for a comprehensive after-sales service.

The A223814 is a reliable and impartial signal module that delivers best-in-class image quality inspections and stringent signal integrity tests.

Chroma 2238 Video Pattern Generator integrates complete executable programs with timings, test patterns, and audio that can be configured freely according to testing needs. Not only does the equipment carry up to 2000 timing patterns and 5000 images, users also can add their own test patterns to meet a large variety of test specifications.

The built-in resolution test chart can accurately indicate the correct scale according to different Timings. In addition to geometric shapes and aspect ratio tests (4:3, 16:9), other test patterns such as Color Bar and Grayscale are also included. With these test patterns, users can easily determine the display's imaging quality and simultaneously monitor the HDCP and EDID execution status on the on-screen display, especially useful for R&D, production and QA purposes.

High conductivity beryllium copper improves the conductivity between components and reduces electromagnetic radiation leakage interfering with the DUT, in compliance with CE/EMC (Electromagnetic Compatibility) standards.
Licensed by The Institute of Image Information and Television Engineers in Japan, a variety of 8K Ultra-High Definition wide color gamut test charts are available. (optional)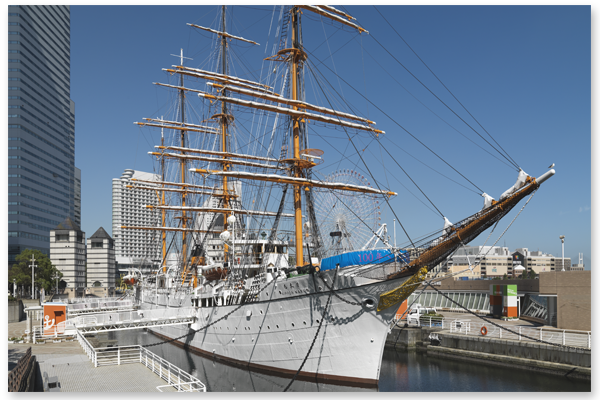 Chroma 2238 Video Pattern Generator applies to imaging devices, including TV, business/gaming monitor, home/theater projector, VR/AR, medical equipment, aviation/aerospace dashboard, signage, and automotive applications.
TV
Business/
Gaming Monitor
Home/Theater
Projector​
VR/AR​​
Medical Equipment
Aviation/
Aerospace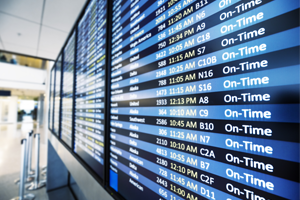 Signage
Automotive
Video Pattern Generator 2238
HDMI Module Specification Table
Model

A223802

A223805

A223812

A223814

HDMI

HDMI 2.0b
HDMI 2.1
HDMI 2.1
HDMI 2.1a

Port(s)

4
1
1
2
Resolution
(Max)
4K@60Hz
8K@60Hz (4 ports)
8K@60Hz
8K@60Hz
10K@120Hz

FRL

-
48G
48G
48G

HDCP

v2.2 / v1.4
v2.3 / v2.2 / v1.4
v2.3 / v2.2 / v1.4
v2.3 / v2.2 / v1.4

Color Depth

24/30/36 bits
24/30/36 bits
24/30/36 bits
24/30/36 bits

Color Space

RGB
ITU-601
ITU-709
xvYCC-601
xvYCC-709
sYCC-601
Adobe YCC-601
Adobe RGB
BT.2020-YC
DCI-P3 RGB
BT.2020-RGB

RGB
ITU-R BT.601
ITU-R BT.709
ITU-R BT.2020

RGB
ITU-R BT.601
ITU-R BT.709
ITU-R BT.2020

RGB
ITU-601
ITU-709
xvYCC-601
xvYCC-709
sYCC-601
Adobe YCC-601
Adobe RGB
BT.2020-YC
DCI-P3 RGB
BT.2020-RGB

DSC

-
●
●
●

HDR

HLG / HDR 10
HLG / HDR 10
-
HLG / HDR 10 / HDR10+

Dolby

-
-
-
Dolby Vision

VRR

-
-
-
●

FVA

-
-
-
●

ALLM

-
-
-
●

QMS

-
-
-
●

HEVC H.265

-
-
●
-

ARC

●
●
-
●

eARC

-
●
-
●
Full Line of Chroma 2238 Signal Modules
---